VIDEO: Coalville artists join forces to create new mural for the town - and you can get involved
By Coalville Nub News Reporter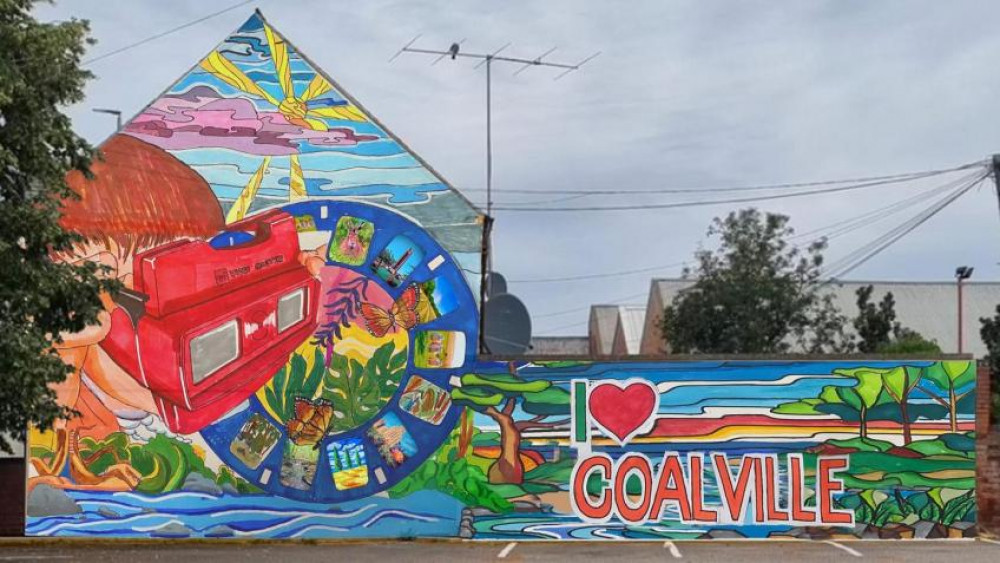 How the Coalville mural could look when it is completed
Four Coalville artists have collaborated to design a mural that is colourful, attractive and is aimed at bringing a smile to people's faces in the town.
They are coming together to share their skills for the mural which is due to be on the on the wall of the Hermitage Cafe,
Tommy Goddard is a professional street artist and videographer, passionate about promoting culture in Coalville.
He designed the mural at the Snibstone New Inn in the town centre.
Tomas Villarosa, originally from the Philippines, has recently hosted an exhibition of landscapes painted in and around Coalville.
He also painted the miral at The Engineers pub in Belvoir Road.
Si, AKA, Retrovandal, is a local artist that painted the Rock Cafe in Whitwick as well as a design at the Amazon fulfilment centre in Ellistown.
Hannah, is a local artist building her street art experience while supporting the community.
Together with permission and support from East Midlands Homes, The Red House and Hermitage FM they intend to create a new, modern and vibrant mural for the town - pioneering a modern style while celebrating what is already in Coalville.
You can get involved by donating to the project HERE.
But the piece will also inclue a view finder - and the pictures in it will represent the best of Coalville.
This will be decided by the public.
It could be a person, a building, an animal, a sculpture, an organisation, or anything else people can suggest.
There are 10 spaces to fill - five will be decided by a community vote and the others will be a bonus for those who donate.