Coalville: Hugglescote artist Cerys is 'buzzing' after taking top spot in National Forest-themed competition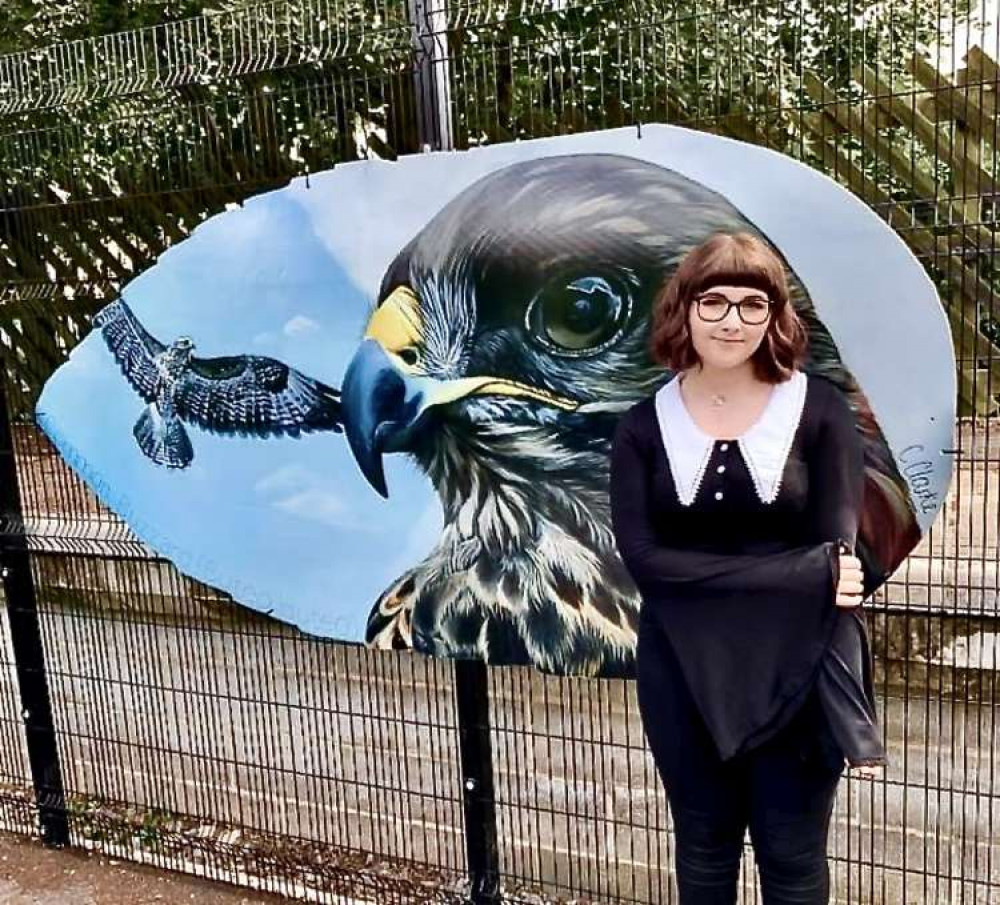 Cerys with her design The Common Buzzard which was the people's choice
An artist whose design went missing while on display - and was later returned - is the winner of the people's choice competition aimed to promote The National Forest.
Cerys Clarke, from Hugglescote, received the highest number of public votes in North West Leicestershire District Council's 'Living in the National Forest' competition.
Her design, 'The Common Buzzard' was chosen out of 21 large leaf shaped boards which were displayed around Coalville to form a temporary art gallery for visitors.
The creation was apparently stolen last week before being returned following an appeal from the district council on social media Buzzard artwork is returned after being taken.
'The Hough Mill' by Tomas Villarosa and 'Midnight Silhouette' by Abii Gamble also received highly commended awards.
In total, 240 people voted for their favourite designs and were automatically entered into a random prize draw to win a family ticket to Conkers or a trip on the canal boat at Moira Furnace. The winners are:
Marie Clements from Castle Donington
Sharon Harrison from Coalville
Arif Saad from Loughborough
Beth Harper from Coalville
Due to the success of the project, the boards have now moved to Conkers for visitors to view over the summer and they will be on display there from 12 July to 5 September.
For those that missed the competition the first time around, the district council will be running another people's choice competition and details will be available HERE
Copies of 10 of the boards, including the people's choice winner and highly commended boards, have been displayed in Coalville along Oliver's Walk.
The council's aim behind the project was to encourage shoppers to think about what it means to live in The National Forest and remind people how important it is to support the local area.
Councillor Tony Gillard, Portfolio Holder for Business and Regeneration at North West Leicestershire District Council, said: "Congratulations to Cerys, Tomas and Abii and a huge thanks to all our artists and voters who have made our first outdoor gallery a success.
"It's been great to see visitors heading into Coalville town centre to support both the local artists and businesses.
"If you missed the outdoor art gallery whilst it was on display in Coalville, I would recommend taking a trip to Conkers for a great day out and a chance to see all the fantastic designs."
Cerys, owner of Art by Cerys, said: "It's been really rewarding to walk into the town centre and see people enjoying not only my artwork but all the other artists' boards too.
"The project has given me an opportunity to grow in confidence and develop my art career - I feel as though I now approach my art with a completely different attitude.
"Conkers is a popular tourist attraction in Leicestershire and it's another opportunity for people to see the effort that has gone into the project.
"I'd like to say a huge thank you to everyone that has voted for me. The support has been amazing and I really hope that it returns next year to give other aspiring artists the chance to get their artwork out there."