Coalville CAN Group Are Aiming To Increase Awareness And Put A Positive Spin On The Town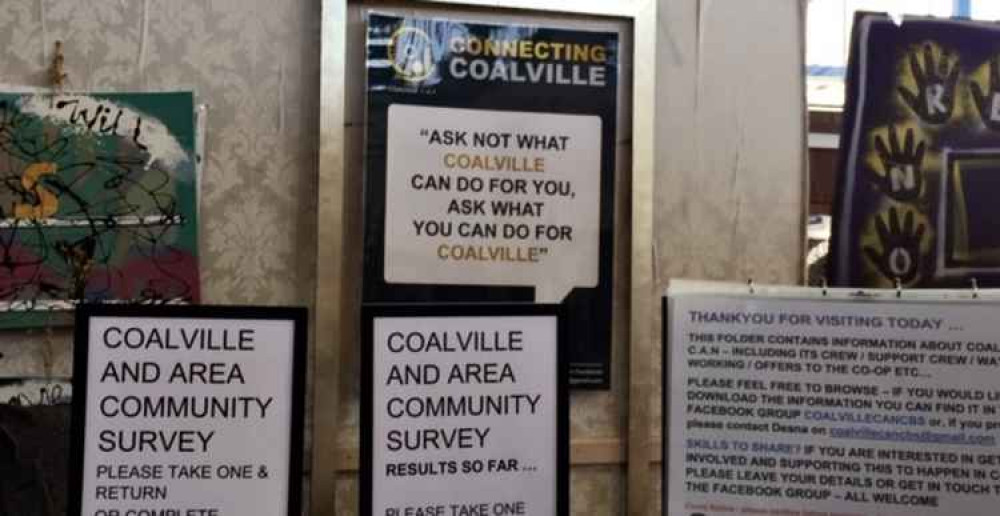 Coalville CAN were at Connecting Coalville in the indoor market on Saturday
The Coalville CAN (Community and Neighbours Group) say they are putting a positive spin on the town - and want residents to get involved and find out how they can help change things for the better.
Coalville CAN were promoting their organisation at the Connecting Coalville event held in the Indoor Market.
And captain of the Coalville CAN Steering Crew, James Wilkinson, says it is all about raising awareness among the public that they can contribute to the group's aims.
James told Coalville Nub News: "The people we spoke to on Saturday are interested in the movement, it's awareness, our presence was to make that awareness a little higher.
"Unless you're a member of the site, or aware of it, then a lot of people don't always know what's happening behind the scenes in Coalville.
"Saturday was a nice opportunity to show people what's available, what skills we have, and what we want to do."
Coalville CAN is also looking for volunteers to come on board.
James added: "Anybody can join, it's a sharing platform, if people have ideas, and we as a team and group of people can put them into practice, we can push them in the right direction.
"Whether you want to start up your own new business, or get involved with taking over some spaces in the town that we can use for the community.
"That's the whole idea behind Coalville Communities and Neighbours.
"We're just trying to put a positive spin on Coalville, it's a wonderful town.
"Its heritage and history speaks for itself. We want to build for the future - but also hold on to the history, incorporating it all together."
One of Coalville CAN's main aim is to acquire land from the former Co-op sites at Bridge Road and Belvoir Road.
James added: "We're in negotiations, and we've not been told no or shot us down.
"So projects like that are quite ambitious.
"But we are also taking on as many small projects as we can and help as many people as we can.
"That's by way of building the movement. Eventually, we'd like a Community Benefit Society (CBS) where people can be shareholders in the projects we're managing.
"But we only started at the beginning of the year and the timing wasn't great of course after what happened in March.
"It wasn't easy to get out and about in the community, and it looks like it'll be difficult over the next few months. But we have to grown to around 400 members now and we get involved with other groups too such as the Hugglescote, Donington Le Heath and Coalville Community Hub and the Coalville Education Partnership.
"We've got some good people, good contacts, as well as knowing people from outside who have expertise that we can bring in."