Jobs In Coalville: These Companies Are Hiring In This Area Now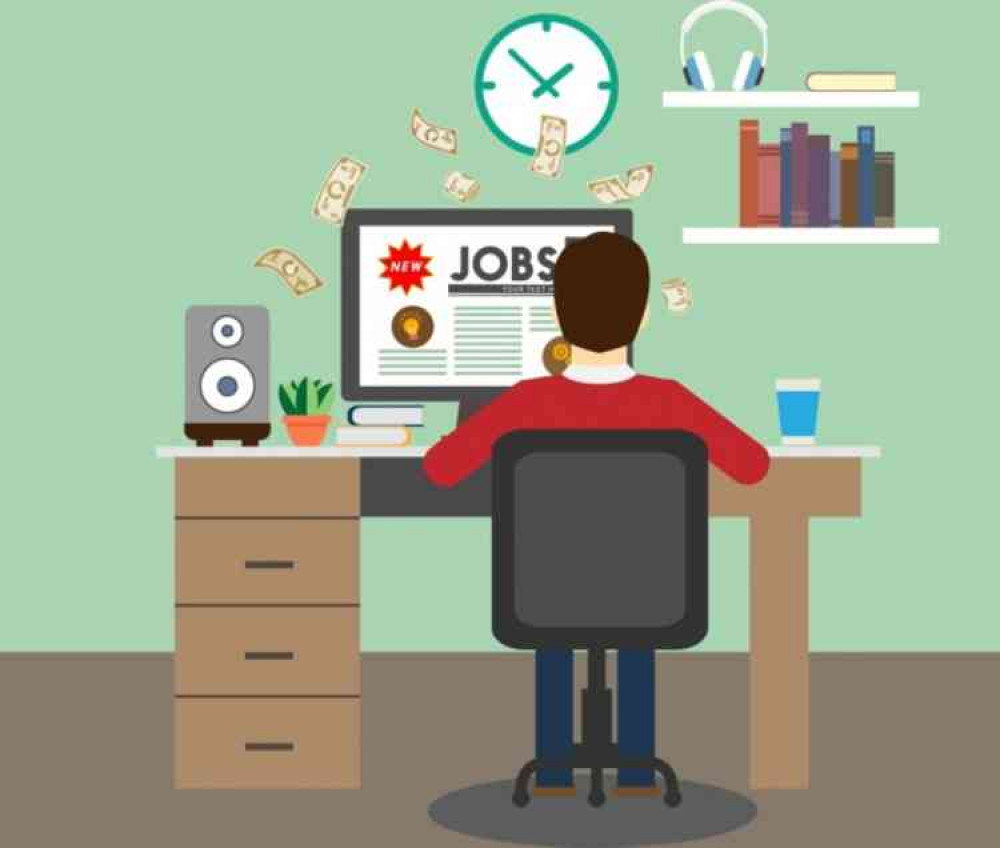 We will be running a weekly selection of the jobs currently available in the area on Coalville Nub News.
Here are just some of the vacancies currently on offer in Coalville.
**************************
Coalville - Food Technology Teacher
Prospero Teaching
Coalville
£110–£203 a day
QTS Food Technology required to start as soon as possible to cover a long term sickness in an 11-16 academy converter school near Coalville. The role will be full time and the successful teacher will be required to teach Food technology up to GCSE. This is a great opportunity for NQT's or experienced Food Technology teachers to join a great school for the full academic year, to make a difference to student's results and to be part of a developing and stable team.
Location - Coalville
Position - QTS Food Technology
Type of work - KS3/4 GCSE
Start date - ASAP
Likely Duration - Until end of academic year
Position end date - July 2020
Contract type - Temporary
4 or 5 days a week
Minimum rate of pay - £110 - 203 per day
Hours - 8:20am-4pm (term time only)
Supply Teacher Experience, Training and Qualifications
It is essential that you have QTS and experience teaching UP TO GCSE Food Technology
in a school setting in either a permanent or supply cover role.
Up-to-date Safeguarding training is imperative; you can undertake a free course with Prospero Teaching if you have not completed a Safeguarding course in the last 12 months.
Strong behaviour management skills are a must.
To be eligible for any teaching job with Prospero Teaching, you must
Hold the Right to Work in the UK.
Possess an enhanced child barred list DBS certificate registered with the online update service or be willing to process a new application.
Provide two professional child related references.
Prospero Teaching is acting as an employment business/education recruitment agency in relation to this vacancy. The successful candidate will be required to register with Prospero Teaching in order to fill this vacancy.
Apply through Proper Teaching
************************************
Finance Assistant
THE JOBLINE LTD
Coalville Contractor
A 3 months+ opportunity for a Finance Assistant has arisen with the local authorities in Coalville, Leicestershire.
Job Purpose:
To process and monitor the progress of insurance claims on behalf of the organisation.
To provide support with all aspects of the Finance team duties including, data analysis, assisting with research, data input, assisting with the production of budget monitoring reports and statistical returns, assisting with the development of the budget and end of year close-down activities.
Develop the annual budget book.
Undertake general office duties, including collection and opening of post, filing, photocopying, printing and stationery requisitions, ordering of office consumables, room bookings and travel.
Skills and Experience:
AAT Level 2 or equivalent.
Competent in the use of Microsoft Office - particularly Excel.
Knowledge of financial processes.
Two years' experience working in a finance team or similar.
Local authority experience is desirable.
Hours of work are 8.45am till 5pm, Monday to Friday, 36,25 hours per week. To apply please send your CV or email for more information Apply through The Goblin, Coalville
****************************************
Customer Assistant, 21 to 30 hours, CoalvilleLidl GB
Coalville
£9.30–£10.50 an hourPart-time
The variety and pace that comes with every shift as a Customer Assistant at Lidl needs dedication and flexibility. Our stores are open Monday to Sunday so you'll need to be able to work weekends, as well as weekday shifts. You'll put in a shift as part of the team to check and unpack deliveries, work on the tills, stock our shelves and, most importantly, help our customers. We'll train you to be multi-skilled in the many different areas of the store and show you what it takes to keep a store running smoothly – and once you're up to speed you'll be a vital part of ensuring every shift runs like clockwork.
Please note that as part of your application you will be asked to complete three online exercises taking less than 20 minutes, designed to provide us with a more in-depth understanding of you and your potential as a member of our team. Should you be successful at this stage, someone from the recruitment team will get in touch to chat about your application over the phone and following this you may be invited to face to face interview.
What you'll do
Delivery arrived? You'll start unpacking the stock.
Queue at the tills? You'll jump on a spare one to help.
Notice a spillage? You'll get the mop.
Customer can't find the apples? You'll leave what you're doing to show them the way.
Bakery items popular today? You'll get some more cooking in the oven.
Fruit and vegetables looking fresh? You'll carry out regular quality checks.
What you'll need
Some knowledge or experience of working in a fast-paced environment
The flexibility to start an early shift at 5am or finish a late shift at 11pm
The ability to react positively to changing priorities
The initiative to identify tasks that need to be completed
The drive to work hard and contribute to the success of your store
A friendly communication style with your team and customers
What you'll receive
You will be well-rewarded for your work at Lidl. Not only will you be part of a secure, growing business, we'll make sure you have quality training and progression opportunities if you want to develop a career with us. As well as your competitive hourly rate, starting from £9.30 with the ability to earn up to £10.50 per hour (*dependent on experience), you will also get 30 days' holiday (pro-rata), a pension scheme, discount on our products and corporate discounts on holidays, days out, cinema tickets and plenty more.
Please note your employment is conditional upon the Company's receipt of satisfactory references and if requested by the Company, a satisfactory Disclosure and Barring Service check
Apply on Total Jobs
***********************************
Store Assistant
Aldi Stores
Coalville
Full–time
At Aldi, you'll never find yourself bored and twiddling your thumbs on the till as a Store Assistant. In fact, time will fly by. You'll do everything from checking off deliveries to dealing with enquiries or ensuring that the shelves are fully stocked with well-presented products. And, of course, you'll provide excellent customer service at all times by attending to customer needs in a prompt and friendly way. It's a really fast-paced environment, and everyone understands exactly what needs to happen to make their store a success - and gets on with doing it. There's a real family feel here, and we all pitch in as part of a close-knit team. Apply through Retail Choice or Total Jobs
**********************************************
Stores Person
ATA Recruitment
Coalville
Full–time
Stores Person
Based in Coalville
Minimum of 6 month
£10.80p.hr
This market giant worked its way around the globe and within many sectors, including infrastructure, manufacturing, shipping, and many more. This company has a turnover of £20 million in the UK alone, globally they make 10 times this amount, they are wanting to take this profit and expand the business even further; by increasing their current workforce to accommodate a 200% increase to production.
They are looking to add someone to their team who wants to advance their career, with the drive and ambition to do so. Having recruited for this company before, I know first-hand how friendly and helpful they are. Many of the contractors we have placed here ask to be contacted when roles come available again, the business also extends many of these contracts long past when they were due to expire.
The day to day responsibilities of the Forklift Driver will be;
Ensuring material Flow is maintained.
Unloading and loading of vehicles manually with Forklift
Using Counterbalance and reach forklifts
Assisting all departments with duties to support production and stores
General house-keeping duties when required
The skills required for the Forklift Driver role are;
FLT experience – Counterbalance and Reach
Knowledge of computers and Microsoft
Experience within a construction/site environment
Ability to work on your own and be self-motivating
Willing to perform duties on and off the forklifts
The benefits of this position are;
Long term career for the right candidate
Monday to Friday working hours… Plus early Finish Friday!!!
Opportunity to do overtime
Being a part of a growing, established company!
To be considered for this role please either hit the 'Apply' button on this site or email your CV directly to [email protected] I can also be contacted directly on 0116 4783860. I look forward to hearing from you!
ATA Recruitment specialises in Manufacturing, Infrastructure, Civil, Transportation and general Engineering recruitment on both a permanent and contract basis – for more opportunities like this one, visit our website.
By applying you accept the terms of our Privacy Notice which can be found on our website.
You must be eligible to live and work within the UK. Sponsorship is not provided
Apply through ATA Recruitment
***********************************
Customer Service Executives
Antalis, Coalville £19K–£25K a year Full–time
Do you have an excellent customer first approach and sharp sales skills?
Antalis are looking for professional, Customer Service Executives, to join our growing Customer Service teams.
Challenge yourself with this great opportunity to join a large, highly successful and well-established international business, at our Head Office near Junction 22 of the M1.
The role is varied and interesting, where strong ongoing relationships with contacts at repeat business to business customers is key. You will be taking their calls, demonstrating excellent customer service in resolving their queries, handling their orders and giving them a smooth experience.
You will work within a supportive team, and in conjunction with a nationally based sales team, to give the best possible experience to our customers, and ensure they keep coming back.
Summary of Key Role Activities:
Handle incoming calls, resolving customer queries and placing orders completing the full administrative process to ensure the right product is delivered at the right time.
Use our Customer Relationship Management System to gather and retain key information to support the next call, deepen your relationships and communicate with the wider team.
Respond and resolve customer complaints quickly, through liaising with logistics, credit control and relevant Salespeople.Sales Advisor | Customer Service | Sales | Telephone Account Manager | KPI | Customer Service Executive | Customer Support | Analytical | MS Office | Client Relationship | Telephony | Inbound | Order Processing | Communication | Complaint Handling
Benefits
This role is based at our Head Office in Coalville, Leicestershire with free parking provided. There is an achievable team bonus & other benefits include: Flexible buy/sell holiday scheme, Pension & Life Assurance, Eye Care vouchers, Cycle to work scheme, Fiat Discount Offer, and a commitment to your training and development.
Additional Information
Interviews will be via a telephone screen and an intive to a half day assessment centre . Assessment Centres will take place on 18th & 19th March. You must be available to attend on one of these dates.
Essential Skills
What Skills you will need:
Naturally comfortable on the phone, handling a range of information, to ensure an excellent customer experience - every time.
Flexible approach, responding to changing priorities accordingly.
Ability to learn and absorb information on an extensive product range.
High levels of attention to detail, comfortable with verbal, written and numerical data/information.
PC literate and extensive working knowledge of MS Office.
Analytical thinking; the ability to break down a problem and trace a solution step by step.About Company We're one of the UK's leading suppliers of papers, communication and packaging materials into the print, visual communications, office and publishing markets. You probably, touch, use and see our products every day, what you don't see is the innovation, expertise and dedication that gets them there. This is a great opportunity to join an innovative company who puts the customer at the heart of everything we do Apply through Antalis
************************************
Stainless Steel Product Polisher Travail Employment Group
Coalville
£9.50 an hour
STAINLESS STEEL POLISHER, COALVILLE, £9.50/HR, FLEXI HOURS, 37 HOURS PERWEEK, FREE PARKING, OVERTIME, CANTEEN Job Title: Stainless steel Polisher Location: Coalville Pay Rate: £9.50 per hour Role: Temporary Hours: Monday to Thursday 07h00 -15H00, Fridays 06h00 - 12h00. Flexible as long as your 37 hours are completed. The Role Polishing SST vertical cones
Polishing welds on thin gauge materials
Be prepared to undertake other duties as required including driving
Ability to use own initiative to resolve problems and issues if any arise
Adhere to all Health & Safety regulations and rules
Be prepared to undertake internal / external training as requiredKey Responsibilities
Attention to detail
Take pride and responsibility for own work
Capable of working to deadlines and sometimes under time pressure
Ability to work supervised and unsupervised
Excellent timekeeping and time management skills
Good working relationships Please forward your cv to or contact Adrienne Pead on (phone number removed) as soon as possible. Travail Employment Group Ltd is acting as an Employment Business in relation to this vacancy Apply through Engineering jobs
***************************************
Project Manager
Go 4 Construction Jobs
Coalville
Full–time
Full Description: Project Manager is needed for an established and expanding groundworks contractor. The Ideal candidate must have experience within either of the following; Groundworks/civils background Residential housing Highways SectorsAll Work is mainly within the Leicester area are car allowances are included as the candidate will be office based and site based.Salary and benefits are dependent on experience.The ideal candidate must of demonstrated a wealth of experience within the sectors stated above and showcase longevity within companies. The client is looking for a committed individual looking for progression Ad Posted: 19/Feb/20: Location: Coalville, Leicestershire, United Kingdom: Salary (approx): £45000 - £60000/annum: Job Type: Permanent: Experience: Not Specified: Languages Required: English: Reference: 847338018: Apply through recruit.net
***********************************
Picker/Packer
Venatu Consulting Ltd
Coalville Full–time Venatu Recruitment Group are delighted to be working with our prestigious client based in the Leicestershire area and we are looking to recruit Warehouse Associates. Must have skills as a Picker:
Previous Warehouse Experience in an fast paced Ambient Warehouse
Have order picked with a scanner or printed sheet
Be flexible towards hours and duties as required
Good spoken and written English language
Good numeracy skills is a MUST
Eager to progress and learn new skills
Dealing with medication
no heavy lifting involved
Motivated
Works well under pressure and in fast phased enviroment
Good time management
Attention to detail
Experience of working in a contract packing environment
Benefits working as a Picker
Free on-site parking
Full training provided
Fantastic onsite support and management team
Benefits of working with Venatu Recruitment Group
Weekly Pay
Pension
28 days holiday
Employee of the Month Awards
Shift pattern is : Monday to Friday between 7am and 7pm (exact hours to be confirmed) The pay rate is: £8.50ph rising higher in April If this sounds like a perfect job please do not hesitate to contact us on and ask for Honza. 'If you're looking for the next stage in your career/career progression, please do get in touch for more information' At Venatu Recruitment Group, your right to privacy is important to us. By applying for this job, your information will be entered into our recruitment system. This will enable you to register for job alerts, apply for jobs and for us to help you find your next role. To read our full privacy policy please follow the link: http://privacy
*************************************
Registered Children Home Manager - Coalville
Brook Street (Uk) Ltd
Coalville Full–time
*Registered Children's Home Manager **
* Coalville**
*Salary £35,000 - £40,000**
* Full time and permanent **
* Experience with children **
BS Social Care are currently recruiting for a Registered Children's Home Manager, this is a permanent and full-time role.
MIT's for this role :
- NVQ 4 in Caring for Children & Young People (actual or in progress) or equivalent
- Ofsted exp
- 2 years working with children within the past 5 years plus 1 year at Senior Level in residential care
- Driving Licence
- Knowledge of Care Standards
- Childcare legislation including child protection
- Awareness of equal opportunities and ADP
- Ability to plan, organise, divert and allocate resources effectively
- Ability to manage individuals and groups of people effectively
- Ability to communicate effectively both orally and in writing
- Ability to work in partnership with colleagues, SSD & others
- Ability to motivate & support staff.
- Understanding the needs of BESD Children including managing challenging behaviour
To ensure that the Home meets the standards and expectations of its Statement of Purpose. To safeguard and promote the welfare of children and to ensure that the quality of care provided is consistent with Care Standards. To establish and maintain a competent, motivated and confident staff team and to offer leadership, managerial direction, guidance and support to staff at all levels. To ensure that the Home's policies and procedures are adhered to and that resources are managed effectively. To develop systems for the efficient administration of the Home and to ensure that the fabric of the Home, equipment, appliances and grounds are maintained to the highest order in accordance with Health and Safety requirements. To be the responsible person in managing child protection concerns and complaints. To liaise with Local Authorities, School, Health and other professionals to achieve best outcomes for young people. To actively promote the Home's equal opportunity and anti-discriminatory practice policies.
" Duties and Responsibilities:
" To meet the needs of children through:
" Ensuring that each young person has a plan which reflects his / her care, education, social, emotional, cultural, therapeutic and health needs and that this plan is regularly reviewed.
" Allocating a Key Worker for each young person with the principal responsibility of implementing the childcare plan.
" Establishing and monitoring high quality standards of care in line with Care Standards and the Home's Statement of Purpose and developing quality assurance measures to ensure these standards are maintained.
" Developing systems in which young people are consulted about the quality of care they receive. " Taking responsibility for progressing any complaints or child protection concerns
" Working in partnership with parents, carers and other professionals to safeguard and promote the welfare of young people
" Attending and contributing to child care planning and review meetings as appropriate To apply for this role, please call Vikashi Mawdia on 01162532550 or send your CV